The end of our amazing round-the-world trip that is.
We depart for Frankfurt on Wednesday afternoon, arriving Thursday morning, and a few hours later fly over to Manchester.
We've both really enjoyed Boston, especially the snow that fell on Sunday. We haven't managed to cover all of the tourist sites we had hoped, but maybe we'll be back in the future to visit those when it's a bit warmer.
We've been up to Harvard and also MIT in Cambridge where we visited the MIT Museum. We walked round Boston Common in the snow on Sunday and visited the location of the "Cheers" bar.
On Tuesday we went to the Science Museum to visit the Star Wars: Where Science Meets Imagination exhibition and also did the "Jump to Light Speed" in the Milllenium Falcon cockpit mock-up.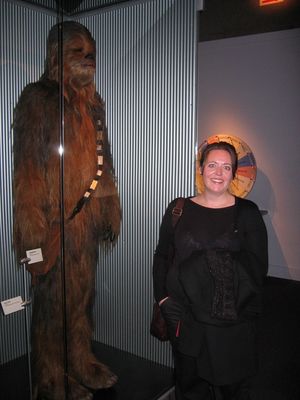 Along with all that we did lots of shopping at the various discount stores in Boston, so I'm now well supplied with jeans, a new suit and coat.
Not sure when I'll get to post again as we're returning to my parents' house in Cleethorpes for a while and then on to Vic's folks in Bury St Edmunds.
Difficult to believe we're finally returning to the UK, over 16 months since we left. We've had a fantastic time travelling and would recommend it to anyone. There's so much out there to see, we only managed to see some of the things we wanted to. As you travel you hear about so many others things which would be great to do/see but time and budget are limited so we had to do what we could manage.
Now we have to work out what we're going to next! Jobs and accommodation, I guess.