…and back again.
That's the story of the past week. Sleeper to Hospet on Monday night, not too bad at all, or we're getting used to it. Hampi is 14km from the train station, about Rs100 by auto-rickshaw. We can now get all our baggage in an auto-rickshaw without too much pain.
Hampi is a really strange place. It's also known as Vijayanagar and was the capital of the empire of the same name in the 15th and 16th centuries. The landscape is very odd, with huge boulders dominating the landscape.
The area is a mass of abandoned temples and palaces over a 25 sq.km site, and the village of Hampi providing accomodation etc in the center.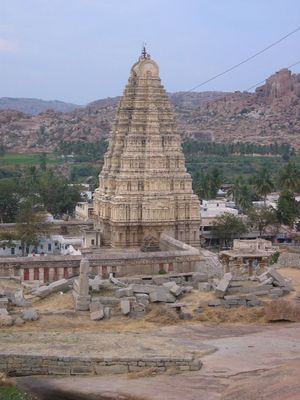 We were there until Friday evening, and spent a day or two wandering around the temples and monuments. You can get a bit "templed-out" after a while so we didn't visit every site by any means.
We stayed at Gopi's Hotel in Hampi, which was pleasant, though not as cheap as was indicated in the guide books. (Rs500 per night). They do great thalis there though, the "special thali" being almost too big to eat (though I will admit I managed it…)
There were lots of "souvenir" (aka tat) stalls around but we did buy a large brass hanging lamp from the Mango Tree restaurant which we now have to post home. Weighs a ton too.
Friday saw us getting yet another night train, back to Bangalore where we've been doing Western-stuff like ordering pizza in our hotel room (Vellara Hotel – on Brigade Road, excellent light, clean room with TV and great bathroom).
We've copied all the photos onto a CD which we'll be posting home. I've only uploaded a few of those we've taken (we have about 600 on the CD), and I've had to reduce the resolution and compress them to make them slightly web-friendly.
We're flying to Delhi on Tuesday morning (have to be at the airport for 3:50am!) and should then be getting a bus to Dharamshala.
Latest pictures start with this one