Our roomette was cosy, two seats facing each other with as pull-out table in between. At nighttime the seats fold down into a lower bunk and the upper bunk pulls down form the ceiling. Our Sleeping Car Attendant was a great lady called Sandy who took care of us for the 61 hours of the journey, making our beds while we were having dinner and folding them away while we were at breakfast.
Our tickets and the price of the roomette came to $512, which is 290 pounds. That price included all meals and drinks (excluding alcohol), bed linen, towels, access to a shared shower and toilet, and use of the Lounge Car. The journey was due to last from 9.15am Pacific Time through to 3.05pm Central Time, with the train passing through the entire Mountain Time timezone as well.
Early in the journey we got stuck behind a slow freight train (freight always takes priority over passenger trains on the US rail system), and by the time we reached Reno, Nevada at 6pm on Tuesday evening we were already 2 hours behind schedule.
Passing through the Sierra Nevada mountains was great, the ground was covered in snow and the scenery was beautiful. During Tuesday night/Wednesday morning we passed through Salt Lake City, Utah.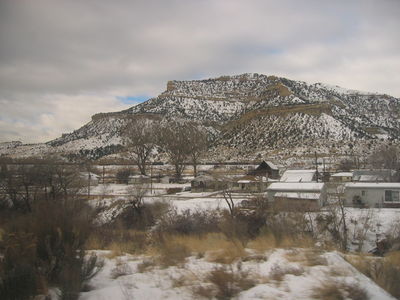 Entering Colorado around noon on Wednesday we stopped at Grand Junction where Vic and I got out to stretch our legs and walk in the falling snow. I think that's the first fresh snow we've been in since Winter 2003/2004 back in the UK.
Colorado was great for scenery, lots of canyons of red rock and snowy trails. By the time the sun set on Wednesday we were about 3 and a half hours behind schedule which meant that we passed through the Rocky Mountains in the dark, reaching Denver at about 11pm.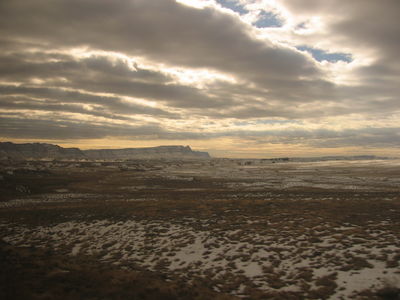 Waking the next morning we were in Nebraska and passed through Lincoln while having breakfast. The landscape was very different from Colorado, being flat prairie surrounded by distant hills, and on entering Iowa mid-morning the land was flatter than we'd seen in a while and the snow petered out.
We finally reached Chicago, Illinois at 8.15pm, just over 5 hours later than scheduled. That fouled up a lot of plans for other passengers but Amtrak seemed to take care of them, arranging accomodation and alternative transport. We just caught a taxi to the Hyatt Regency on Wacker Drive where we had booked a room for our stay through HotWire.