We met Vic's second cousin, Claire, at the airport on Sunday 15th as she had kindly offered to put us up (or put up with us) for a few days. Claire lives in Laguna Hills in Orange County, about an hour or so drive south of LA International airport. There we met her children, Natasha, Kayla and Erik, and her husband, Marty, who all made us feel welcome. We weren't really sure what we were going to do in LA, so Claire helped out by taking us to the Mission San Juan Capistrano and then on to Laguna Beach.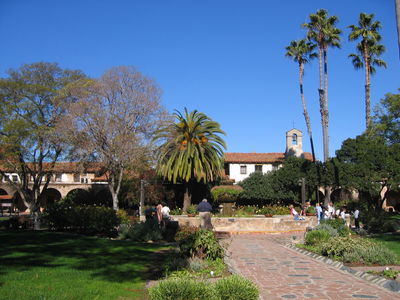 Marty also let us use his car so I braved the US roads for the first time and we got horribly lost on the way to Irvine Spectrum Center. We ended up at Fashion Island, a similar shopping and entertainment complex in Newport Beach so had dinner there instead, before getting lost again on the way back.
After that experience we had another go and managed to navigate successfully all the way up to Venice Beach where we had a walk along the seafront. As it was pretty fresh, no one was outside at Muscle Beach, the famed work-out spot, but there were lots of people selling art and bits and pieces on the pavement. We then drove up to Malibu where we looked at the huge houses up on the hillside before driving back along highway 405 through the rush-hour traffic, this time finding the Spectrum Center and stopping for dinner.
I'm not the most enthusiastic driver so facing the freeways and driving on the right-hand side of the road took some getting used to, but I seem to have managed it okay, though navigating our way around has proved to be more difficult as signs seem to be used only to tell you which street you're about to cross rather than what destinations are in particular directions.
On Thursday, Claire and the children took us to Disneyland, which I must admit I'd been really looking forward to. We weren't disappointed either. The place seems so huge and within minutes of walking through the gates we were on Main Street and Mickey, Goofy, Pluto, Donald and Minnie were there in front of us celebrating the 50th year of Disneyland. We were pleasantly surprised to find that there were virtually no queues for any of the rides, the longest wait we had was about 10 minutes, and that was later in the day after school had finished.
So what did we do? We started with Indiana Jones and the Temple of the Forbidden Eye, then on to the Jungle Cruise. After that it was the Thunder Mountain roller-coaster, the Alice in Wonderland spinning tea-cups, the Matterhorn roller-coaster, Pirates of the Caribbean, Buzz Lightyear's Astro Blasters and Space Mountain. That was before lunch! We also went on Star Tours (virtual Star Wars ride), and then over to the California Adventure park (also run by Disney and next door to Disneyland) for "Soarin' Over California" (a virtual flight over Californian landmarks), "Monsters Inc. Sully and Mike to the Rescue" (which wasn't terribly good, though the visual effects on Randall were good) and the Hollywood Tower of Terror. We went on the big roller-coaster, California Screamin' and Claire and Vic sat it out while I went on the Mali-Boomer (shooting up vertically in a seat and the falling back down). Then we tried the very jerky "Mulholland Madness" roller-coaster.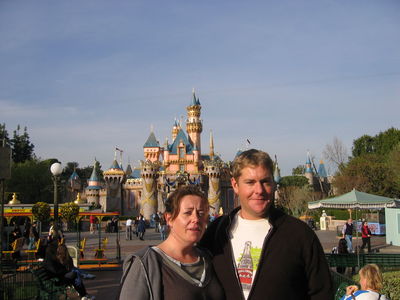 We had time to head back to Disneyland to go on "It's a Small World", one of the first rides when Disneyland opened in 1955, a very quick ride on the mini-coaster in Toonland and a repeat performance of Space Mountain.
All in all, we crammed a lot in, had a great time and picked up some souvenirs. I'm particularly pleased with my Mickey Mouse-earred flying helmet.
Off for a meal at BJs and then home for a well-deserved sleep.
On Friday, Claire kindly took us out to a clothing outlet store as Vic was after a warm coat for some of cooler forthcoming destinations and I picked up a couple of pairs of jeans to replace damaged trousers from our travels. We ventured out for a meal in the car again in the evening and made it to our destination without too much trouble. Getting back wasn't so simple but after a couple of wrong turns we made it back.
Photos from LA are now posted in the gallery.