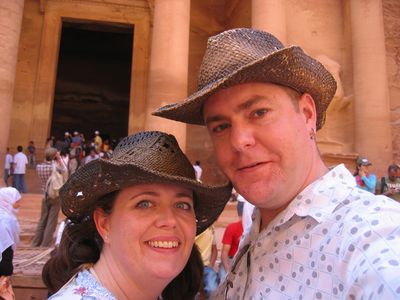 We're on holiday in Egypt at the moment. We're staying a hotel in Taba Heights on the Sinai Peninsular next to the Red Sea.
We've been here for a week and haven't done much except for yesterday's day trip to Petra, where the photo above was taken.
We're here for another week but we're just relaxing and doing some reading and lounging about.
The hotel's good, the service in the restaurant can be a bit slow; asking for something three times before it arrives isn't uncommon, but the location is very nice, right on the beach. One of the things which attracted me to the hotel is that there's free Internet access in every room (provided via a Netgear ADSL router in each room) so we can keep in touch with the world and post our holiday photos on Flikr and my own web gallery.
The Taba Heights resort complex is a bit "packagey" compared to what we're used to. There are lots of hotels all grouped together. There's one "town" nearby but it's actually just a group of shops and restaurants aimed at tourists and a few empty buildings. You're not encouraged to leave the resort except on pre-arranged excursions, opportunities for doing any shopping that isn't related to the resort are pretty limited. The food and beverage prices are all pretty much the same as UK prices, around £3 for a bottle of beer, £5-6 for a bar-type meal.
The day trip to Petra was interesting, if a little rushed. We set off from the hotel at 6:30am, caught a ferry to Aqaba in Jordan about an hour away, then onto a coach for a 2 hour drive to Petra. We got three hours in Petra which is only enough to scrape the surface really. I'm sure there's lots more to see and more information to be gathered. We had to remain with our tour group as the city was very crowded as it was a public holiday; the guide estimated that there were 15,000 people there compared to the usual 1,500.
The walk back up from the end of the main section is quite tiring but we weren't tempted to take up the offer of a horse ride, having earlier seen another tourist get injured after being thrown from one of the horses.
We'd definitely liked to have spent more time in Petra (and more time in Aqaba, where we only had 30 minutes on the way back), but it gave us a glimpse of the place and a feel for what was there.