After a few days on Samui, we're back on Koh Phangan, staying at the Coral bay bungalows in Chaloklum on the north of the island.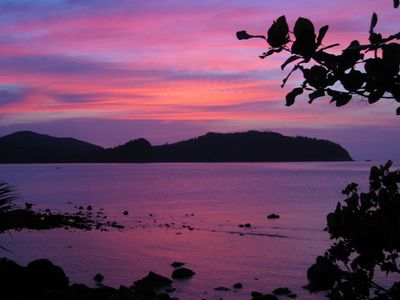 Nice bungalow, with a great view over the bay (see above) and wonderfully coloured sunsets.
We have a tokay living in our bathroom, using the floor in there as his toilet. He hasn't caused too much disturbance so far, though we can hear other tokays calling during the night. He's about a foot long and very brightly coloured.
Not sure what's happening next, might be off to Cambodia to see Angkor Wat, or might not. Vic is trying to sort out travel details but it's not easy.