It's a long drive to our next stop, Franz-Josef Glacier and we took our time, stopping at the Gates of Haast to take some photos of the spectacular white water tumbling over huge blocks of rock.
We also stopped at Knight Point to take some coastal photos of the blue sea and sky.
After that it was on to the village of Franz Josef Glacier. We parked up at the Top 10 Holiday Park there, in a tiny spot which wasn't much more than a parking space but they were pretty fullso we had to make do.
We drove back into the village to buy fish and chips which we then ate in the car park of the glacier itself.
The cloud had come down so you couldn't see much and we decided to come back the next morning to take some photos. The village is full of people trying to sell you guided tours or helicopter trips but we decided those were pretty much out of our budget (and in the latter case, not great if the weather is bad).
The next morning was slightly clearer and we walked to the Sentinel Rock viewpoint to take some photos.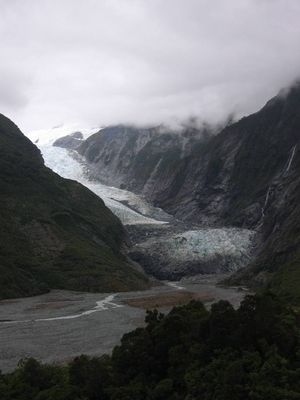 After that we drove up to Hokitika, near Greymouth where we stayed at the Shining Star Holiday Park where they have emu, goats, alpacas and pigs in fields close to the park.
The park also gives easy access to the beautiful beach which is strewn with driftwood and flat pebbles.