I had my first refresher driving lesson this afternoon. It's amazing how much you can forget in 16 years. Still I didn't hit anything, and only stalled a couple of times. I think I might need a few more lessons before having the confidence to go out on my own.
Towards the end of the lesson it started to rain. By the time I got home and into the flat it really started to rain hard. Then it started to hail, and then lightning, thunder and absolutely torrential rain. The hailstones were the size of those old-fashioned acid pip sweet and covered the back garden. Apparently, central Brixton got quite wild, with water almost a foot deep flowing down Brixton Hill, and some flats being hit by lightning. I suspect this was some sort of warning that I should keep off the road, but I'll defy it!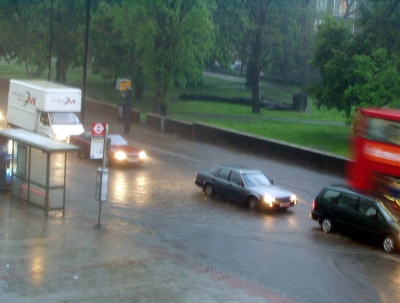 Brixton Hill under water – picture by "wiskey"
The flat sale is dragging along. We went to Bromley to prove my identity to our solicitor on Friday, because having my passport and two bills isn't enough, apparently (even though that's all they asked for). It would seem that the vendors now want to complete in the middle of June. Not ideal as we'd hoped to be out of here by the end of May, but we'll cope.
After the Bromley on Friday, we went to The Water Rats on Grays Inn Road to see some bands. The first band on, Picture Center were by far the best, really cool original sound. They have some MP3s on their website so go have a look. LP2 in particular is good. The other bands were The Fits (from Majorca) and Eye. Wasn't very impressed by either of those. Nice to go out and see a band again though. Vic, Cedric and I are off to see the Scissor Sisters on Saturday, with The Queenz of Noize and Lamb as support.