It's been a while since my last post, but we've been fairly busy.
We had a morning in Ubud at the Studio Perak silversmithing course. This was great fun, Vic and I both produced our own piece of jewellery in a few hours, with help from the instructor. Vic produced a very classy looking pendant, and I was pleased with my almost-circular, but not very classy pendant with a green peridot stone. I don't have a photo yet but will get something sorted shortly.
A couple of days later we booked onto the Sobek rafting course at Telaga Waja. We had been with them at the Ayung River on our last trip to Bali and decided to go on the more exciting Telaga Waja course. It took about 45 minutes to get to the site from Ubud, travelling through beautiful hills and countryside with spectacular views over Bali.
We shared our raft with a couple from Denmark and our guide, Gabus. Only seconds after setting off we got our indication that this was going to be much more exciting than last time as the boat rose up against a large rock and the back end filled with water. A bit of scrambing and we were off again.
The course was much rougher than our first trip and all the more exciting for that. There was also a good deal more work involved paddling the raft, but we needed the exercise.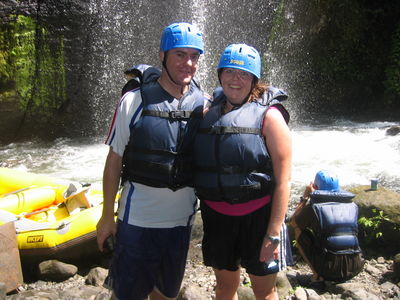 After about 7km of the 14km route. We stopped for a break by a fabulous waterfall where the guests from some of the other boats proceeded to slip about and fall in the water in various comical ways, including one English girl who had decided that a crochetted string bikini and wedge-heeled flip-flops would be suitable attire for whitewater rafting. She fell over at least 5 times and needed rescusing to avoid floating off down the river.
After the break it was on towards the big drop of the route, a dam with a 4 metre fall. We were instructed to lie back, almost flat as we went over, which we all did. I have no idea what happened next, but I suspect that as the boat hit the water at the bottom of the dam I bounced out. Next thing I knew I was lying on my back in about a foot of water, with one hand still on the safety rope in the boat. 15 seconds later I was back in the boat, unhurt but slightly wetter. Great fun!
An excellent lunch was provided at the end of the trip, before the drive back to our hotel.
Since then we've spent some time back in Kuta and flown back to KL, but I'm out of time to write about that right now. Some more photos from Bali are in the gallery