We had a great day out at Bako National Park on Thursday last week. We set off early to get to the park before the hordes arrived.
After a van ride to the pier, we caught a small boat to the actual park.
We landed on the gorgeous beach and after a brief wait at the Park HQ set off to Telok Pakou.
The trek was quite hard work, climbing up steep hills and through rainforest, after crossing a mangrove swamp by raised walkway. We had soon worked up a good sweat.
As we walked, our guide pointed out Proboscis monkeys, which we heard fighting before we saw them. These are the animals that most people go to Bako to see.
Proboscis monkeys are famed for their large noses (in the males) which grow as the animal ages, and which is used to attract mates by honking. We saw several groups as we trekked and watching the shy creatures move through the trees above us was a magical experience.
Eventually we reached the beach at Telok Pakou, where we rested while watching a group of Proboscis' who tend to gather nearby during the morning.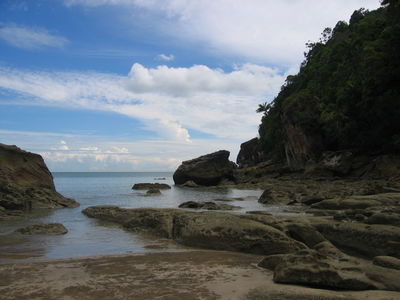 After that it was back to the HQ along the same route, again encountering Proboscis monkeys, and also long-tailed macaques, sun geckos and two wrangler pit vipers, which are very venomous. Because the Proboscis monkeys are so shy, I didn't get a decent photo of them, which is a shame.
After lunch we headed up to the view point above Telok Assam where we had landed.
Today, we had another trip out to see soem wildlife, in this case, Semengoh Wildlife Rehabilitation Centre
The Orang Utans for which the centre is famed are fed at 9am each morning and we arrived in plenty of time. Before we made our way to the feeding area, an adult female and a juvenile where playing around entertaining the visitors in exchange for some fruit.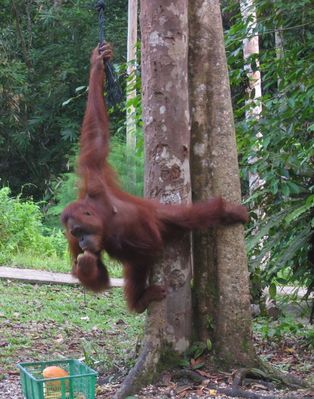 We then went to the feeding platform and the park ranger called to the Orang Utans. After 5 minutes two arrived, swinging through the trees, and a little later another two turned up.
We watched for around an hour as the apes picked up bread and fruit left for them on the feeding platform. It was great to see such beautiful creatures living in the wild having been returned to the forest from urban environments where they were previously held captive.
The Rehab Centre also houses some crocodiles and turtles, as well as having a veterinary centre which was looking after some gibbonswhen we visited. There are also some gibbons living wild in the park which you could hear whooping as you walked through the trees. A great place with a fantastic atmosphere.
Lots of photos taken at Bako and Semengoh naturally.