We're still here in Syndey. Last week was pretty busy with lots of visiting going on.
On Tuesday we went to the Maritime Museum which was fascinating. Loads to see there and we didn't even go on the ships or submarine in the harbour. Inside the huge museum there are loads of boats and a helicopter hanging from the roof and exhibits covering all sorts of subjects including Australian beach-life, surfing (they even have a home-made bong in the surfing exhibit!), swimming, rowing, naval battles and immigration.
The immigration exhibition tied in quite well with the Hyde Park Barracks Museum that we'd visited a few days before. Lots of info about the conditions of convicts and voluntary immigrants and their life on arrival.
That evening we met up with Amy, a friend of Vic's who used to work with her at the NTA in London, and her boyfriend, Gerald who live back in Sydney now. We had a few drinks together and they kindly offered to take us with them to visit Amy's dad at his self-built house in Woolombi in the Hunter Valley, an area famed for its wines.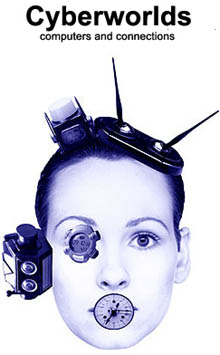 On Thursday we went to another museum in the Darling Harbour area, the Powerhouse Museum housed in a huge former powerstation. Another excellent museum, sort of a cross between the Science Museum and the Victoria and Albert Museum in London. Displays of fashion and household wares alongside life-size replicas of spacecraft and real steam engines. Lots of fun and it ate our entire afternoon! In the evening we had a look round the Market City shopping centre which has lots of factory outlet stores, including a Mambo one where I found a nice, but very cheap woollen zip-up cardigan which should come in useful in the colder areas of our trip.
Friday morning we visited Paddy's Market, which neither of us were very impressed by, and then we went to the Westfield shopping mall at Bondi Junction for a bit of pottering around.
While we were there, my brother's friend, John Weir, called us. He lives in Syndey and I'd mailed him when we arrived. He invited us over so after finishing the shopping we caught a taxi to his flat in Darlingpoint. We met his wife, Lydia, and his son, Miles, and shared a bottle of wine before going for a walk down by the harbour. John took us for beer at a English-style pub before dropping us home. I'd like to thank John and Lydia for making us so welcome, and I hope that Lydia's voice has recovered as she was left almost speechless while we there due to a sore throat.
On Saturday, we set off to meet Amy and Gerald at North Sydney station, only to find that the railway line was closed for maintenance, so we had to take a bus replacement service. Fortunately we were only a few minutes late and we then set off for the Hunter Valley.
Amy wasn't feeling well so the journey took longer than planned. We stopped at a pub in Woolombi for a beer and one of the huge burgers that they do. After that we drove on to Amy's dad's place. It's a large building, completely self-built from local timber and makes a great weekend home. Amy's dad, Andrew, built it over the past 13 or so years with some help from friends.
As it was getting late in the afternoon we decided to leave the wines for Sunday and just relaxed a bit for the rest of the day. It was great to watch wallabies hopping around near the house and soem birds had built a nest by the chimney and were feeding their babies. We ate a suitably traditional barbequed meal before retiring for bed.
Sadly, on Sunday we woke to the sound of hard rain rattling on the corrugated roof of the house. The weather had taken a turn for the worse and made it pointless visiting the wineries. We set off back in the rain and stopped for lunch at Brooklyn before returning to rainy Sydney.
On Saturday night the clocks changed for daylight saving time. They went forward, whereas in the UK they went back so we're now 11 hours ahead instead of the 9 hours that we were last week.
We're flying to Melbourne on Wednesday, and then on to Christchurch on Sunday. Lots to do!