Wednesday morning dawned warm and bright. We took a cab down to the Wicked Campers centre in Christchurch and met Jason who was to sort out our van for us. Jason was without a computer (due to problems with the machine) and had to do everything with fax and phone, but held up well despite the pressure of constant phone calls etc.
We were to have Darth Vader, a Mitsubishi van with "Darth" painted on one side and "Vader" on the other, with a picture of Darth on each side. The front has "Wicked" sprayed on, and the back says "Speed and the force will be with you". They have some great paint jobs on the vans, including a fab Jimi Hendrix one. We were fortunate not to get the van named "Dick Heads".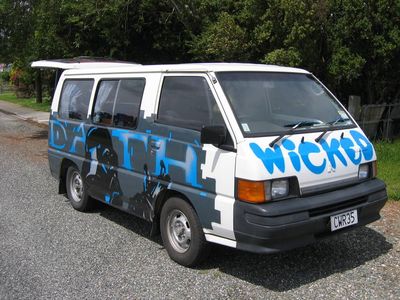 The rental charge works out at about NZ$80 per day, which is about 35 pounds.
After picking up the van we drove round the corner to the "Pak'n'Save" supermarket, biggest on the South Island apparently. We picked up some groceries there to go in the cool box in the van and then drove through the one-way system of Christchurch to a bookshop to pick up a decent map.
By now time was getting on so we decided to only go as far as Timaru, a couple of hours drive down the coast. We stopped at the Top Ten Holiday Park there and spent our first night in the van.
We were surprised that the bed in the van was quite comfortable, wider than the one in the VW we had in 2004 and we slept very well.
On Thursday we set out quite early and stopped for a snack at a hillside viewpoint above Oamaru with a spectacular view over the bay and Pacific Ocean.
The next stop a little later was at the famous Moeraki Boulders, which are a number of perfectly spherical boulders washed completely formed out of the cliff face. There are some boulders which are still intact and a number of broken ones which give you a glimpse of the internal structure of the stones. There are also a couple of boulders still sticking out of the cliff-face.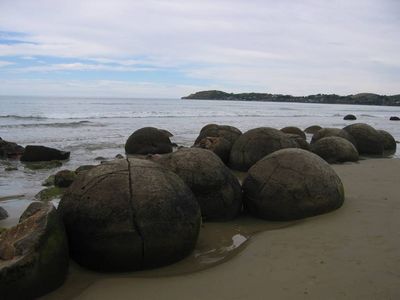 As with all the locations we've visited in NZ, there were quite a few other campervans parked nearby, mostly rented, but none as funky (or small) as ours.
On the road we attracted waves, honks and smiles as we steered "Darth" down highway 1.
We pulled into the city of Dunedin which is built across several very steep hills, and spent a night at the Dunedin Holiday Park.
On Friday we spent the day in Dunedin, first doing a tour of the old Speight's Brewery, which was entertaining, informative and included samples of their various brews at the end. After a spot of lunch at the brewery restaurant we made our way over to the next tour, CadburyWorld! Another informative tour with more samples of produce, and glimpses of Crunchies being packed and chocolate buttons being made. Then it was on to another campsite in Dunedin, another of the Top Ten Holiday Park locations.
Saturday saw another early start, this time with rain pouring down from the heavens. Back on to Highway 1 and down to Gore where we turned onto Highway 94. A brief stop at Balfour for lunch and then onward towards Te Anau. As we got further West the scenery grew increasingly spectacular with snow-capped mountains rearing in the distance. Rather than go straight to Te Anau, we divert to Manapouri to see the lake there, which certainly justified the detour with more mountains backing a beautiful lake with islands. This area was used in LotR to show the Fellowship heading south from Rivendell.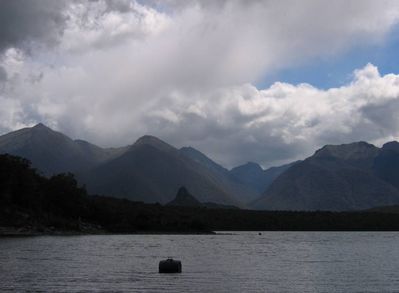 Lots of pictures uploaded – Melbourne and New Zealand