We got the survey for the house on Elmington Road, Camberwell through on Thursday and it recommended a structural engineers report due to evidence of subsidence.
Vic's sister recommended an engineer who she deals with through work and we arranged to meet him at the house on Friday afternoon. We'd already arranged to have the afternoon off to go to the Beer Festival so we were able to get things moving quickly.
The engineer was great, gave us lots of information and his opinion of the property, and we decided that it was too much of a risk to continue with the purchase.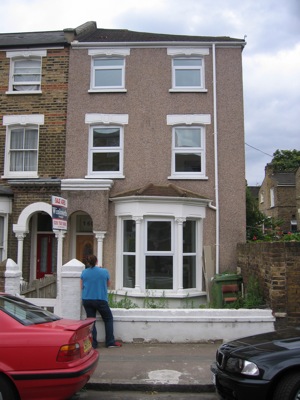 Problems included subsidence, which could well have been historical but there was no guarantee, there was also no drainage at the front of the property, the rear extension had been built with un-rendered breeze blocks, the roof was bowing due to slates being replaced with concrete tiles, the floors of most rooms where sloping. We got much more information from him than we did from the Homebuyer Survey we got through the Alliance & Leicester.
After leaving the house, we went for a bite to eat and called the various parties, and then went and registered with some more estate agents in Camberwell.
After that it was on to Earls Court for the Great British Beer Festival. We arrived there at about 5:30pm and because we're CAMRA members we didn't have to queue and got discounted tickets.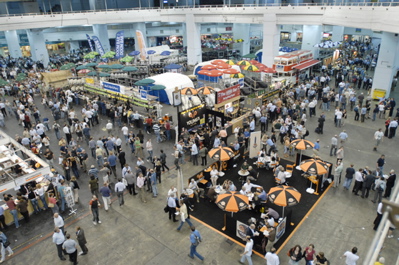 We bought our pint glasses (which we exchanged for the commemorative glasses when we left the Festival) and headed to the Cider stall for our first half pints. Vic tried some Gobbledegook while I went for the Delvin End "Smiling Moose".
After the ciders we moved on to a host of bitters of various descriptions. Those that I can remember include Summer Session, Tindall's Summer Loving, Sharpes' Doom Bar, Arkell's 3B, Falstaff's A Fist Full of Hops, Mauldon's Black Adder and probably a few others that I don't recall.
Lots of the beers had run out as the festival had been running since Tuesday, but there were still plenty to choose from. Being a Friday the festival was very busy, much busier than the photo above, so buying a beer often took a fair few minutes. Next year we'll have to go earlier in the week.
The food was good, if a bit expensive compared to the beer, most pints were between £2 and £2.80. We had some hot pork rolls to soak up some of the beer before returning home.
So we're now back on the house hunting regime, with a very urgent need to find somewhere if we're not going to end up renting again. We've found a few places on the web so we'll follow up on those this week. The good thing is that we've got a lot of the pieces in place already, so we can move to exchange of contracts as soon as we've surveyed etc.