We'd somehow managed to book ourselves onto a flight leaving Auckland at 7:15am so had a very early start on Wednesday 4th January. The previous two days had been public holidays and lots of shops etc had been closed.
We flew to Rarotonga in the Cook Islands with Air New Zealand, taking just under 4 hours and arriving at about 12:10pm. Because we were crossing the International Date Line, we arrived on Tuesday 3rd January, which was once more a public holiday. The Cook Islands have a close relationship with New Zealand, sharing the New Zealand dollar as their currency though the Cook Islands produce some coins and bank notes of their own. For example, they have their own NZ$2 coin which is triangular in shape.
On arrival we were greeted by the sounds of a man playing a ukulele in the arrivals hall. After clearing customs we made our way to the desk labelled for Vara's which is who we had booked our accommodation with.
When the minibus had filled up with other guests we drove to Vara's on Muri Beach, about 11km around the island from the main town, Avarua, which is also where the airport is located.
There's basically one main road on Rarotonga which goes all the way round the edge, totalling about 34km. At various points there are parallel roads a little inland but there are no roads crossing the middle of the island which is quite mountainous.
We had a beachside studio apartment at Vara's which was very nice. Good view and a kitchen with gas hob etc. Vara owns around 40 properties around the island including some which are further inland and uphill a little.
Muri Beach is one of the most popular places on the island and the few shops in the area stay open until quite late. We bought some basic food items from the local shops there but the choice isn't great, especially for vegetables etc. The paw-paw (as they call papaya) is very good though.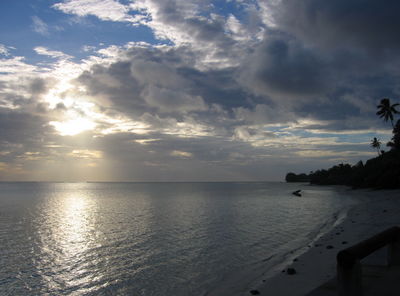 Unbeknownst to us, we had arrived during cyclone season so the weather on Rarotonga was a bit stormy at times. Most of the time it was sunny though, and we only had one incident where it rained very hard late one evening and into the night.
Our first neighbours where Justin and Raquel who live in Dublin and had been enjoying a 6 week holiday in Japan, Thailand, Malaysia, Singapore and New Zealand before reaching Rarotonga.
After a day settling in and familiarising ourselves with the local area we caught a bus into Avarua and did some more grocery shopping. The FoodTown in Avarua was better stocked than the local shops, but some items were still difficult to get or very expensive.
We enjoyed ourselves relaxing by the beach and on our balcony, sheltering from the rain when the weather was rough. On the Saturday, Justin and Raquel flew to LA and some new neighbours, a Dutch couple called Henk and Truus moved in.
We hired a car for a day and drove round the island a couple of times on the Sunday but the weather was pretty foul and we couldn't see much through the rain. To drive a car in the Cook Islands you need a Cook Islands driving license which you can obtain for NZ$10 by taking your home driving license to the police station in Avarua. If you want to drive a scooter/motorbike and don't have a bike license you have to take a driving test with the police.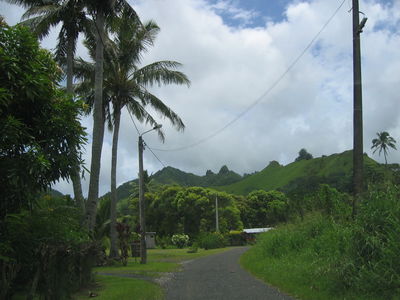 For the next week we had a very easy time, reading, walking round, sheltering from the ever-threatening rain etc. We hired the car again for the last two days on the island and went souvenir shopping.
Our flight out was at 10:20pm so we loaded all of our gear into the car and went to get something to eat before the flight. We had some excellent fish and chips from a harbourside shop close to the airport.
Our flight to Los Angeles consisted of two parts, a one hour forty-five minute flight to Tahiti, arriving around midnight and then an eight and a half hour flight on to LA, with a two hour wait in between. Tahiti airport isn't much to talk about, we crashed out on some seats for the time we were there. The flight on to LA wasn't great as everyone was tired and the in-flight entertainment system consisted of a screen 12 rows in front of us which we couldn't see because of all the heads in the way. We did our best to get some sleep but woke up unsurprisingly groggy the next morning.