We had a few days in Wellington and spend pretty much a whole day in the fascinating Te Papa museum, which is huge and wide-ranging, covering the European settlement of New Zealand, the Maoris, Pacific Islander culture, wildlife, geology (including an earthquake simulator). Too much to see in a day really.
We also took the cable-car up to the Botanical Gardens, but it was so windy up at the top that we had to come straight back down again.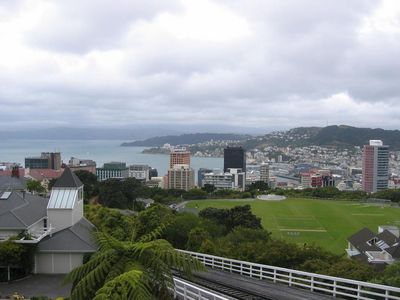 We enjoyed a few beers at The Malthouse which has lots of "natural beers" on tap, as well as some bottled English Ales. We developed a taste for the Bookbinders beer as well as trying a few of the other varieties.
On the Saturday night before leaving, we booked a couple of deluxe seats at the Embassy Cinema and went to watch "Harry Potter and the Goblet of Fire" which we both enjoyed, despite it being almost 3 hours long. The seats were great, all leather and very comfortable, with enough storage space for popcorn and drinks.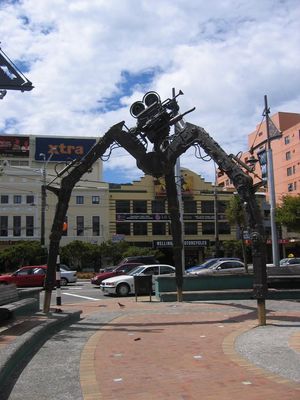 Just across the road from the cinema is a huge tripod sculpture, put there in November 2005 by Weta Workshops of Wellington, partly owned by Peter Jackson. The NZ premiere of King Kong was also to be held at the Embassy on December 14th.