The next day was cloudy, making for some dramatic scenery as we drove along the coast.
We broke the journey at Punakaiki, famous for its strange rock formations. The rocks are in stacks of horizontal bands caused by differing hardness of the sediments when they were formed. No one has come up with a good explanation as to why these 'pancake rocks' formed in so many layers. Also around the rocks are a number of 'blow-holes' which spout sea water when the tide is high, which it wasn't when we were there. We had a great coffee and cake at the cafe by the main road and then did a bit of shopping at the art/souvenir shop. I bought myself a nicely cut stone pendant, a pewter dice made in the shape of a squashed dragon (!) and Vic bought a 'Dream Keeper' doll made by a local artist. We were tempted by some lovely possum fur hats but resisted.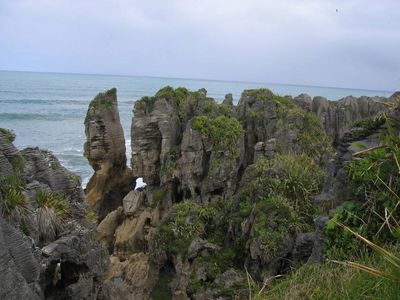 Next stop was the seal colony at Tauranga Bay, on Cape Foulwind (a great name given to it by Captain Cook). As we pulled up in the car-park, as usual full of other camper-vans, we spotted our first Weka, a fairly common and very curious little flightless brown bird. We walked up the path to the top of the cliffs overlooking the waves and rocks. From there you have an excellent view of the seal colony with huge male fur seals basking on the rocks and other seals swimming and bouncing around. The seaweed here was also very impressive, with huge strands several metres long washed backwards and forwards by the tide.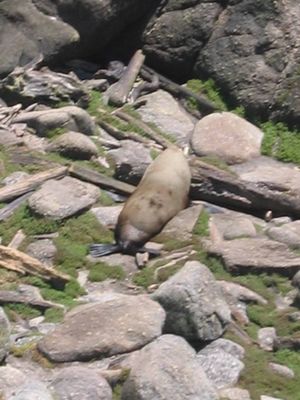 After an hour or so watching seals and having a spot of lunch we moved on again along more spectacular scenery to the Top 10 Westport Seal Colony Holiday Park where we spent the night.