On Monday we headed back to Christchurch to the Top 10 Park in Papanui. There we cleaned the van up ready for returning it the next morning. It was a nice site with excellent facilities but is quite a way from the centre of town.
Having spruced the van up a bit and packed all our stuff into bags, on Tuesday morning we drove back to the Wicked Campers depot to drop of Darth Vader. Jason was there, now with a few more people there to help him out. The cracked windscreen looks like it will cost us a NZ$200 windscreen charge, less than a replacement windscreen will probably cost and if it's repairable, they'll refund the difference in cost.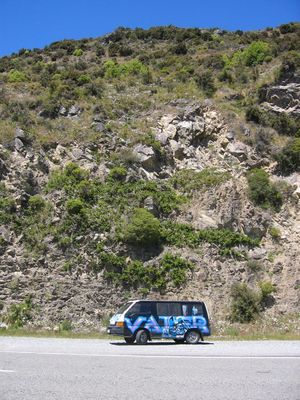 After saying goodbye to Darth, we walked into the centre of Christchurch via a few secondhand bookshops and a cafe. We bought some bus tickets to the airport and rode out there to visit the Antarctic Experience Centre.
The centre gives a lot of information about the Antarctic, the settlements there, previous expeditions and the wildlife and landscape. The highlight of the visit for us was the Antarctic Storm, where you enter a room full of snow and ice clad in provided coats and overboots before being blasted with wind and noise taking the temperature after windchill factor down to -18C.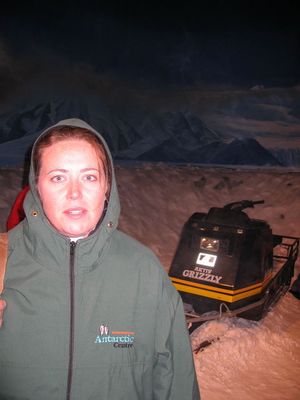 We decided not to bother with the Hagglund trip which is a ride in an Antarctic tractor unit over some rough terrain and water and returned for a night in a proper bed at the YMCA in Christchurch, along with another meal at Dux De Lux down the road.