The next morning we popped back into Arrowtown to look round the shops and found some very tempting offers in some of the shops, and stocked up on even more warm clothing.
I also popped down to the Arrow River which was used as one of the locations for the Ford of Bruinen in "Fellowship of the Ring".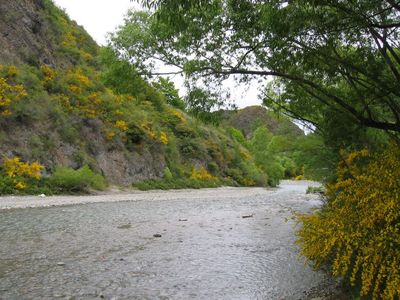 The shops here are naturally full of Merino wool clothing, which is wonderfully warm. Some garments such as hats, gloves, scarves etc are a mix of Merino Wool and possum fur.
The possum was introduced to New Zealand for its fur in the 19th century. Unfortunately, it took to the country rather well, having no natural predators and lost of tasty vegetation. There are estimated to now be over 70 million possum who collectively eat 20,000 tonnes of vegetation each night. They also put pressure on native species by eating their food etc so are not well liked in NZ. The possum seems to have little road sense, we must have passed hundred of them squashed on the road, and possum fur is not treated with the distain that most fur attracts in the UK.
From Arrowtown we drove on to Wanaka, along the Crown Range Road, through the old mining town of Cardrona, which is now famous for skiing and the 'bra-fence'. The bra-fence is a fence along the side of the highway which, since 1999, has sprouted several hundred bras making it almost as much a landmark as the old Cardrona Hotel.
Wanaka is a small town by a beautiful lake which is building a reputation for outdoor activities including skiing. Our campsite was a little way out of town but had a field right next to it full of sheep and a few alpacas in another nearby field. We watched the sheep doing sheepy things and cooked some food before turning in.