A bit of catching up to be done.
Last Wednesday we flew from Sydney to Melbourne, where we were booked into the Melbourne Metro YHA. The YHA was good, friendly staff and a pleasant room all fairly close to the city centre.
We spent some time looking round Melbourne city centre, and found some great places to eat, especially down Lygon Street which was full of people just back from the races. The famed Melbourne Cup had brought the country to a virtual standstill on Tuesday and there were other races on through the week. Lots of ladies tottering about in high heels and slightly ridiculous hats.
We visited the Olde Melbourne Gaol which held and was the execution place of the infamous Ned Kelly. For some reason, the Australians have elevated this sheep-rustling murderer to be a folk-hero. His famous home-made suit of armour is possibly one of the best indicators of the man, covering his head and body with reshaped plough blades. He was captured after being shot in his unprotected legs. Probably not the brightest criminal in the world then. His armour can be seen at the Victoria State Library close to the Gaol.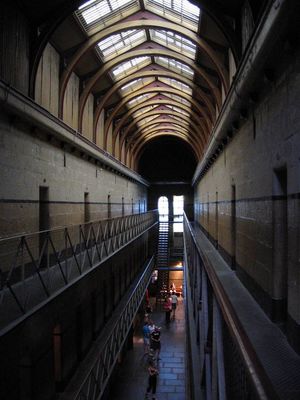 The Gaol was interesting, if a little gruesome. They have the original scaffold, nooses and other hanging equipment as well as flogging triangles and a cat o'nine tails on display along with the stories of some of the more infamous inmates. Capital punishment was legal in Australia until the mid-1970's.
On Friday we paid a visit to the Immigration Museum and the National Gallery of Victoria where there was a visiting exhibition from the Tate London. As it was my birthday we had a nice meal out and Vic bought me an iPod nano and a couple of Sudoku books to celebrate. Vic found a great little knitting shop called Marta's Yarns in the middle of Melbourne, and after a quick demonstration by the very helpful assistant she bought some needles, wool and a "getting started" leaflet.
On Saturday afternoon we took a tram down to St Kilda Beach, which was great. Lovely sunshine, though a bit windy, and nice cafes on the beachfront. We watched people kite-surfing, walking their dogs and rollerblading there.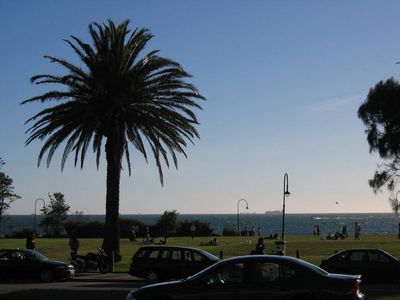 By this point Vic had knocked out quite a few rows of her first knitted item. She decided it would be a scarf (though it's quite wide) and has taken to knitting like a duck to water.