Once more it's been a while since I updated the blog. We're in Sydney now and having a great time. We're staying at the very nice Y On The Park hotel which is run by the YWCA and is in the city centre close to Hyde Park, within walking distance of the harbour etc.
Sydney is currently suffering from a plague of Bogong moths and they're everywhere; in the hotel rooms, restaurants, shops, everywhere. One evening we walked by the park and could see hundreds of bats circling the top of one of the skyscrapers, lit up by lights on the top of the tower, a truly marvelous sight as the bats circled and whirled chasing the moths.
We've been really busy making the most of the city. Done lots of shopping and have bought a very cool new Stussy jacket and some of those Nike Considered shoes which are the most comfortable shoes I've ever bought.
What have we been up to? Well, we walked most of the length of Oxford Street looking at clothes, we've wandered round the Rocks, had a picnic in the Royal Botanical gardens, been sat on by Cockatoos, taken a ferry to Manly, and taken lots of photos of the Harbour Bridge and Opera House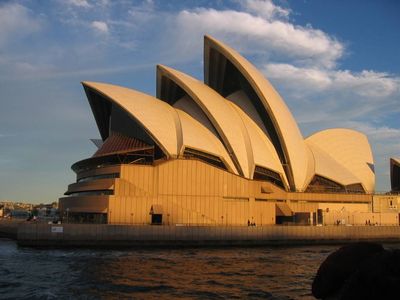 One evening we ate in Hyde Park where there was a food festival taking place, alongside the "Art and About" art exhibition along the footpaths in the park.
We spent an afternoon at the fantastic aquarium which has a huge tank with loads of large sharks and rays in it. Quite unnerving to walk under a large toothsome grey reef shark as it glides silently over your head.
On Wednesday evening we celebrated our second wedding anniversary (which was actually Tuesday) by having a superb meal at the Opera Bar by the river followed by an evening at the Opera House. We went to see "HMS Pinafore" and "Trial By Jury" and had a great view from our seats in the Circle. A bit pricey, but it was our anniversary and how often are we going to get the chance? The building is amazing to look at and has a really nice feeling, being very open and airy, with cafes and restaurants lining the harbourside. At sunset the building sail-like domes are bathed in a beautiful amber light.
On Thursday we caught the ferry over to Taronga Zoo and spent a day watching the animals. On landing near the zoo you can get a cable car up to the top of the hill which gives great views of the harbour as well as some of the animals in the zoo.
We saw loads of animals, lots of Australian species like kangaroos, wallabies, echidnas, platypus, koalas, quokkas, dingos, wombats, emu etc. They also have lots of non-Australian animals like Sumatran Tigers, lions, gorillas, orang utans, gibbons, giraffes and some very playful Asian Otters.
I've uploaded some photos, a couple of Singapore , and pictures from Brisbane and loads from Sydney .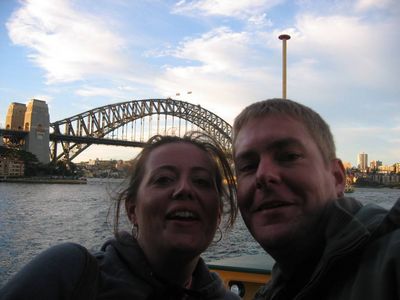 Sydney is great, quite like a sunnier, cleaner and more airy version of London. Quite expensive, but we're getting used to that. We've had some great meals here, particularly the one at the Opera Bar.
The shops are generally good, not particularly cheap but quite good choice and Vic's found lots of clothes she likes in Witchery.
On Friday evening we met up with my cousin, Brendan , and his wife Bee. I haven't seen Brendan for about 30 years and he's been working in Sydney for 3 years so it was an excellent opportunity to catch up. We met at their wonderful apartment overlooking most of Sydney, and they took us out for a fantastic meal at Otto's restaurant. It was great to meet Brendan again and to meet Bee for the first time and they were very friendly and kind to us.