Sorry for the lack of updates, I've been terribly slack about posting for the past 3 or 4 weeks.
After we left Bali we were in Kuala Lumpur for a few days, mostly getting a Thai visa sorted out as we want to stay in Thailand for more than 30 days. We put in our application on the Friday morning and picked up the visas on Monday at 11:30am.
While in KL we were both quite sick with the coughs that had affected us in Bali. On the Sunday we were so tired and ill that we didn't go out.
On the Monday we went to a different shopping centre, Berjaya Times Square, a new centre which hasn't all opened yet.
One part of the centre has 6 or so floors given over to a theme park with a big indoor rollercoaster, complete with loops. Although tempted, Vic wasn't well enough for us to go on it, but she's promised that we can go to one of the theme parks near Brisbane when we get there.
There was also a Borders bookshop in the centre where we picked up some more reading material, and a watch shop where I bought a cheaper replacement for my Seiko Arctura Kinetic because the strap had perished (after less than 18 months) and it isn't possible to get it replaced without sending the watch back to Seiko, which takes about a month.
KL is great if you like shopping centres, but doesn't really have much else going for it as far as we could see.
After that it was a flight back to Bangkok with Air Asia. Once more they let us down and delayed the flight by several hours meaning that we missed our connection to Koh Samui. The actual flight to Bangkok was fine, and the views from the window as we flew overthe coast of Thailand were very spectacular, giving great views of rice fields and towns.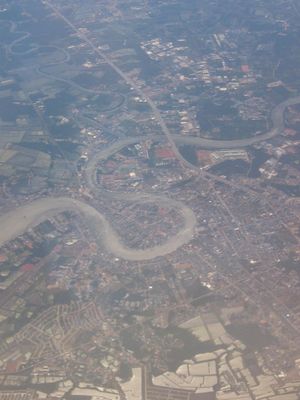 Fortunately, BangkokAir were very good and let us change our flight to the next day when we called them to let them know. That meant we had half a day in Bangkok, so we stayed at Samran Place again and visited the Emporium mall for some dinner.
The next morning it was back to the airport and on to Koh Samui, then a taxi to the ferry point at Big Buddha and the ferry to Koh Phangan, arriving at Sarikantang at around 3pm.
So that's us, back on Koh Phangan, staying at Sarikantang on Leela Beach near Haad Rin again. We've joined the gym again and are going regularly. That's probably also helped us get over the coughs which are completely gone now.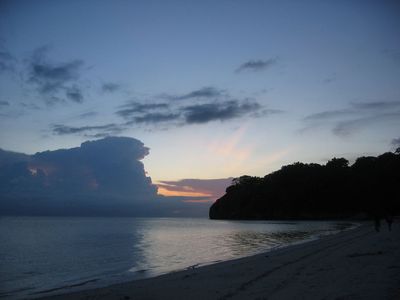 We're here for another couple of weeks and then it's time to move on; we'll be in Australia by the 30th September!