As I mentioned earlier, we're on Bali at the moment. I've been here twice before, in 1999 and for our honeymoon in October 2003. Last time we were here was just over one year after the bombs which killed so many people. The memorial in Kuta at the site of the bombings is now completed and lists all of those known to have died in the blasts. It's likely that even more people died, as it's thought that some Balinese people were injured and returned to their villages where they later died.
The island has only recently recovered from the tragedy, and it's notable that there are a lot more Australians here than last time.
We spent a week in Kuta, browsing the shops and relaxing. There are loads of surf-wear shops selling Billabong, Quiksilver, Rip Curl, Cult, Roxy and other Australian brands. Prices are cheaper than back home (and I guess cheaper than in Australia, given the number of Aussies buying stuff). DVDs here are even cheaper than they were in Thailand, with the usual caveat that the more recent films tend to be very poor quality. There are also quite a few shops selling genuine Stussy and Mooks clothing, rather than the poor imitations that are available here and in Thailand. Vic purchased quite a few items of clothing (I'm sure there was an inch or two of spare space in her luggage…) but I held off for the time being.
On Saturday we got a taxi out here to Ubud, about an hour from Kuta. It's quite a bit cooler here, certainly during the evenings, and much calmer. In Kuta, you'd be stopped in the street every few yards and offered transport, massages, t-shirts, leather jackets, "young ladies", DVDs, newspapers and more, but here it's much quieter, with only the transport guys being prevalent.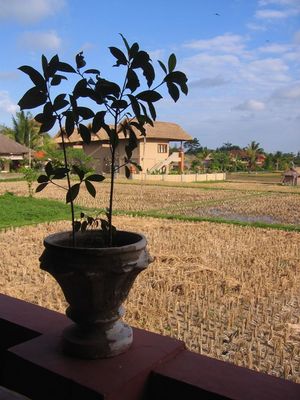 Ubud is beautiful, most buildings being built in the Balinese style with intricate stone carvings and gorgeous stone entrance ways. There are also loads of very good places to eat and drink, even the most expensive topping out at about £10 for a main course (usually fillet steak). We've been eating two courses with drinks for less than £10 for two of us.
The town is surrounded by hillside rice fields, adding to the calm atmosphere. Some of the cafes and restaurants look over the fields making for relaxing eating.
We've been looking at the possibility of doing some courses while we're here as there are silversmithing, cookery, batik, painting, and carving classes held in Ubud, which is renown for its arts scene.
We've even found a decent gym, though it's quite a trek from our hotel. It's also at the end of a road which is inhabited by a series of bitey-looking dogs which barked and sniffed at us when we checked the gym out on Sunday.
We're in Ubud for ten nights, then back to Kuta for a couple before we fly back to KL and then through to Koh Samui for another month at the gym in Koh Phangan.
That's assuming that the current haze problems in Malaysia get better before we're due to fly to KL next week. If they get worse, they may declare a state of emergency in Malaysia and close non-essential workplaces. That might well include the airport, preventing us flying back to KL, and possibly our later flight to Bangkok. So fingers crossed on that front.