We were booked in to the Regal Court Hotel in Kuching. The hotel is quite a distance from the waterfront and tourist areas of Kuching, and is close to a main road. I was feeling tired so caught up with some sleep while Vic went out to scout the area and check out suitable alternative accommodation. On returning she had found an internet cafe (the hotel didn't have internet access, despite a large sign to the contrary outside) and booked us into the Holiday Inn Kuching which was at a much better location.
My tiredness had changed to an aching lower back so we didn't venture further that day.
The next morning, Wednesday 13th, we moved to the Holiday Inn Kuching, with a room looking over the river. The hotel has wireless broadband in all rooms for RM15 per 24 hours, which was pretty good value. Sadly the connection we used seemed to be very poor, losing 5% of packets resulting in painful web access speeds.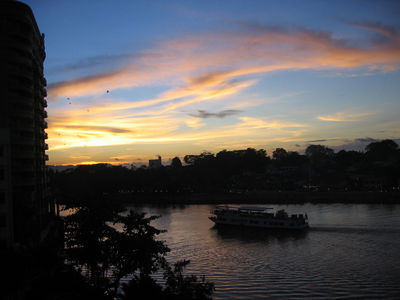 We had a walk along the riverside and visited some of the attractions in the town including the Sarawak Museum.
My back was still aching and I was starting to feel uncomfortable so on Friday we decided we had better visit a doctor. I won't go into too much detail about the illness…
On advice from someone at the British Council we headed for the Normah Clinic a private hospital just outside Kuching. We were dropped off in the Accident and Emergency section and within minutes were talking to a doctor. He referred us to a consultant urologist and after an hour or so waiting we were talking to the urologist. I don't imagine that the same would have happened in the UK, even at a private hospital.
By the time we were seen by the consultant, he had the results of a urine test already. He checked me out with an ultrasound scanner and checked a few other vital signs, but couldn't find any sign of kidney stones or growths which were two possible causes of my symptoms. He diagnosed that the problem was caused by a urinary tract infection and prescribed a course of antibiotics. He also submitted another urine sample for culture-growth and said he would email us with results.
We then went through to pay. We had insurance which would cover any expenses beyond the excess of £40. We were pleasantly surprised to find that the total fee (doctor's consultation, sample processing, consultant fee and medication) came to less than £40. I hate to think what that would have cost me in the UK (or US).
We've since found out that Malaysia and Thailand are both destinations for medical tourism, and there's even a regular shuttle bus from the Holiday Inn Kuching to the Normah Clinic.
I'm pleased to report that the antibiotics have improved things considerably, and though not 100% yet, I have managed an hour in the gym.