We got up early on Friday and caught the ferry over to Samui. The power had been off in the whole of Haad Rin from 9am until 7pm on Thursday, and it looked like the same might happen again on Friday, hence we decided to avoid another sweaty day with no fan or water and do some last-chance purchasing.
We picked up a more recent copy of Private Eye and some other mags, some bits and pieces from Boots and Vic bought some more clothes (mostly exercise gear). We missed the 4pm boat back so had to wait until 6:30pm for the last boat. It got quite windy but nowhere near as bad as last week.
We'd missed the gym opening hours so will have to make up for that later.
After some Italian food in Haad Rin we walked back to the bungalow and got ready to settle down and relax. It was then that Vic spotted a spider on the curtains. Not just a spider, but a HUGE spider! It must have been 6 inches across and had nasty-looking fangy-bits.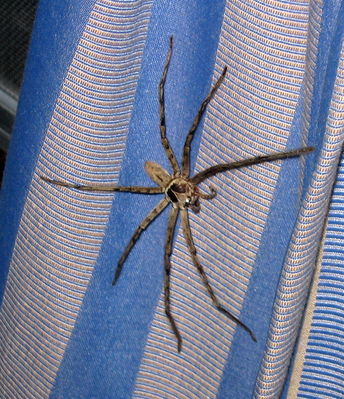 After a degree of panic and "what the heck are we going to do?"-ing we managed to manouvre the beast out of the window by showering him with drops of water. Much relief as he leftthe room and we shut the mesh screen behind him. We just hope he doesn't decide to come back in.