After our brief stay at Ao Chao Phao, we travelled back to Thong Nai Pan and managed to get a couple of bungalows at the Thong Ta Pan resort we had stayed at earlier.
We spent a few more days relaxing and enjoying the food and surroundings, as well as making a short excursion to Thong Nai Pan Yai, to the south of Noi where we were staying.
All too soon it was time to return to Koh Samui to get Lisa back to the airport. We returned to Samui on Thursday 17th March, and stayed with her at The Jungle Club in the mountains above Chaweng. The huts there are basic (thatched wooden huts with mosquito nets) but were very comfortable and had good shower rooms.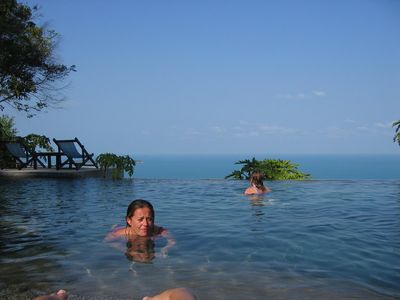 The Jungle Club pool is excellent, built on the edge of the mountain to give it that trendy "infinity pool" look. The owners and staff are all very friendly and there are two free Jeep transfers up and down the hill (the only way to reach the Club) per day. The huts are only 450 Baht per night. (The Club can be contacted by phone on 01-8942327 or 01-8918263, +66 for Thailand)
We spent an evening in Chaweng, eating and drinking at The Deck (very good value, for Chaweng).
After seeing Lisa off on Friday we headed back to Chaweng and walked along the beach before going to "Three Monkeys for dinner.
I've uploaded some pictures from our time in Thailand so far.