We met up with Lisa on Sunday and caught a flight to Koh Samui that evening. It's only an hour from Bangkok on the plane (14+ hours on the train/ferry).
We stayed for a couple of nights at Cactus Bungalows in Bophut, just along the beach from the hotel we stayed in in 2001. The bungalows were nice enough, though the beds were mattresses on a raised concrete platform, so could have been softer.
After a day recovering from travel and visiting the cafes of Bophut we caught the ferry from Bophut to Koh Phangan (there seem to be at least 4 ways of spelling it) at 9:30am on Tuesday.
Arriving there we got a pickup truck to our resort (Thong Ta Pan at Thong Nai Pan Noi) for a very expensive 600 baht. With hindsight we should have got a Song Thaew instead as they only charge 80 baht per person.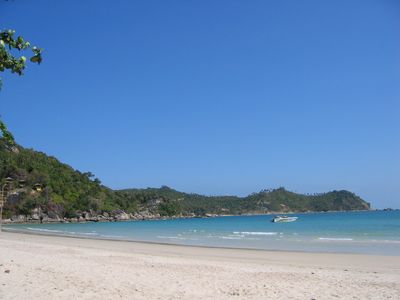 Nice resort, our bungalows were on a hillside about a hundred yards from the beach. Towels and toilet paper were provided which was a bonus. Nice clean beach in a bay with good swimming. We spent a bit of time lying on the beach and swimming.
We spent three nights there, eating at resort restaurants and on our last night we visited Que Pasa, a Mexican restaurant run by an English girl. The food was good and we were entertained by the local dogs playing and chasing motorbikes.
On Friday we moved on to Ao Chao Phao, via Thong Sala, to stay at the Seaflower bungalows. Looking back, it was probably a mistake, the rooms were more expensive and had fewer facilities (no towels or loo roll) and the beach was much narrower with a very shallow bay that made swimming impossible.
We enjoyed a few sunset drinks at the Pirate's Bar, and then had a superb meal at The Village Green, a nearby restaurant/pub. Vic and I had a massaman curry (chicken and potato in a sweet peanut sauce), and Lisa had a giant BLT baguette. We'd definitely recommend a visit to the Village Green to anyone in the area. They do lots of British pub grub too, like steak and Guiness pie, chip butties etc.