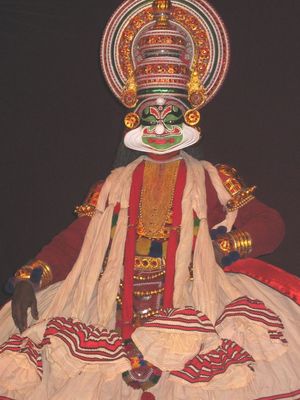 We moved on from Panjim on Sunday, getting a cab to Margao in the south of Goa where we caught a train to Ernakulam Junction.
The train journey took 15 hours, so we were booked into a 3-tier air-conditioned 2nd Class carriage, similar to the one we used to get to Goa from Mumbai.
A nice old couple shared the section with us, helping us out when it looked like the food seller had forgotten our order.
The journey passed peacefully until it got dark and we moved to out bunks. One of the other passengers snored….. like a warthog! All night. Not good.
Even less good was the infestation of cockroaches, who decided that the best place to play hide-and-seek was above the top bunk in which I was residing. I woke in the middle of the night to see several of the critters jiggling about inches from my face, which made it quite difficult to get back to sleep, certainly not helped by the Darth-Vader-with-a-cold impressions coming from the snorer.
We arrived at Ernakulam Junction at about 4:30am, and got a cab to our guesthouse, the very pleasant Chiramel Residency in Fort Kochi.
After sleeping for a few hours, we caught a ferry back across the harbour to Ernakulam and wandered around a bit, still a little dazed from lack of sleep.
That evening we ate at Fort House (another nice place to stay in Fort Cochin) where we had some excellent garlic prawns and dal.
Tuesday was spent checking out what Kochi had to offer, including a visit to the old Synagogue and the "antique" shops around Jew Town. We ate at the very disappointing Addy's just around the corner from the Chiramel Residency. The food there was very bland and the service wasn't up to much.
Wednesday saw us visit the Mattancherry Palace (aka Dutch Palace), again in Jew Town followed by a visit to the Kathakali dance performance at the Kathakali centre.
The performance was fascinating, and once you got used to the wordless nature of the play and concentrated on the expressions and movements of the dancer it was very enjoyable.
We followed that with a return to Fort House for more excellent food.
Today we've had a slack day, Vic's bought some more clothes (to replace the ones she sent home last week, no doubt), and I'm here in an Iway internet cafe uploading more pictures while Vic samples the delights of Ayurvedic massage.