We spent New Year's Eve having an excellent meal of Goan prawn curry at Samantha's, followed by a brief trip to the Surf Club, which sadly was hosting some awful live music, and finally on to Liquid Sky, a little club/beach-shack which was playing some good music and had a very friendly atmosphere. We'd polished off a few beers before we set out so were well fuelled for the night, finally making it back to Ivon's at around 3am. Vic was rather worse for wear the next day but has now completely recovered.
I hope you all had an equally good New Year!
We finally bit the bullet and moved on from lovely Arambol yesterday.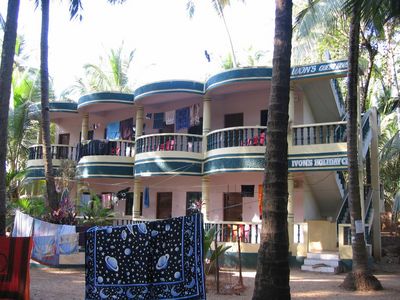 We're now in Panjim, and will get the train from Margao to Kochi in Kerala on Sunday.
Karen and Nils, the couple who were in the next room to us for our last 3 weeks in Arambol also have a website with some pictures of Arambol and other places in India. Their site is in Dutch but is very good even if you can't read the language.