I stopped updating this log for a while as we hadn't seen sight nor sound of an internet cafe. So, from here on in it may be a bit sparse in places.
We stayed for 3 nights at the first site near St Just-in-Penwith, in Kelynack, and then another 2 nights at another site in Botallack, the other side of St Just. While there we spend a day over at Merazion, close to St Michael's Mount, though we didn't venture over to the island, as the causeway was underwater and we didn't fancy the boat trip. That was a warm, if not sunny, day unlike most of the others in St Just which were quite misty and wet.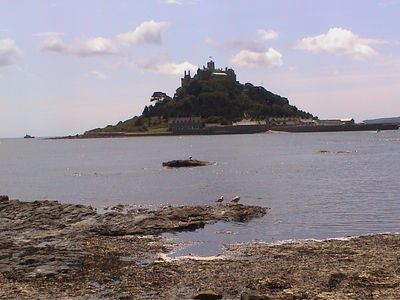 On one of the other reasonable days we drove to St Ives. Our main reason for going was to visit the Tate St Ives gallery. We parked just around the corner and wandered round the gallery. Some odd exhibits (for example, a video of a man wandering about in a windy desert telling jokes) and some very interesting. The main exhibition on at the time was a series of John Nash works. The most interesting of these was called simply Boulder. We watched the video which explains how Nash carved a boulder out of a block of wood and dumped it in a local stream in Wales. He then tracked its movements as it was pushed downstream by floods and spring water, taking still photos of moving footage every now and then. Over a period of 25 years the boulder moved down into a river and then into an estuary before finally disappearing in 2003. It just struck me as a great idea and the film of just the boulder at various parts of its journey along with a caption giving the date of the clip was very effective.
Next stop on the journey was due to be St Agnes, but it was pouring with rain when we arrived, and after a brief walk around we decided to head straight up to the Higher Moor campsite near Newquay. This was quiet site with no advertising but a good one, close to Porth Joke and a few other bays. We stayed for a few days, cycling down to the bay and sitting enjoying the occasionally good weather. We visited Newquay for one morning which was probably enough, and spent an afternoon catching up with the washing in a laundrette in St Columb Major. During our time at Higher Moor, we got the awning out and found it gave us quite a bit more room for storage, making the whole process of getting the bed out considerably less painful.