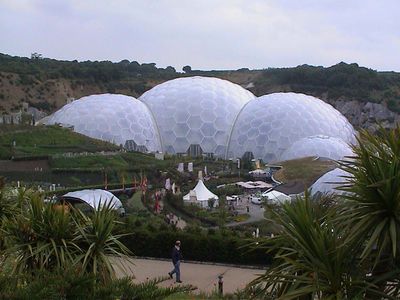 Wednesday 7th July – We awoke to grey cloudy skies, completely different to the previous two days. We headed off to the Eden Project, just the other side of St Austell. The traffic through St Austell is grim, which didn't bode well. Strangely though, the traffic eased as we got closer to Eden, so it must just be St Austell that has traffic problems.
We parked the van in the camper section (coincidentally, next to the same German vehicle we had parked next to at Heligan!) and got on the Park and Ride bus to the actual project entrance, marvelling at the architecture of the "biomes" as we got closer. As we joined the queue, it started to rain, but the queue moved fairly quickly so we didn't get too wet.
We headed for the "Temperate Biome" and found it to be very crowded, to the point where all the visitors were shuffling along in a sheep-like manner. The plants and information weren't as interesting as those at Heligan and we emerged a little disappointed. By this point it was 2pm, so we went to get lunch. The system in the main restaurant is pretty chaotic, especially when it's raining outside and the site is busy. You have to first find an empty table, then order your food and wait for a waitress to bring it to your table. Sadly, when the outside tables are out of action due to the rain, there aren't enough tables of the number of customers, so people end up wandering round looking for somewhere to sit.
After a slow, but good lunch, we went over to the other biome, dedicated to Tropical plants. This was more interesting that the Temperate area, with a wider variety of more interesting plants. The biome is kept very humid, and again was very busy. The humidity is maintained using rain water which falls on the biomes, and on the day we were there, there was plenty of it!
Following that, we started looking round the outside areas but the continuing foul weather forced us to catch the landtrain (tractor with some coaches) back to the entrance and shop. The weather didn't help but we were a bit disappointed with the whole Eden Project, having found Heligan more interesting and better value for money. Maybe we're spoiled having seen coffee, cocoa, spices and tropical fruit growing in their natural habitat while on previous holidays.
The weather didn't let up when we got back to the campsite, in fact there was a severe weather warning issued for the South West of England. As we huddled in the van the wind grew stronger and the rain fell heavier. We had to wring out the Jeyes cloths soaking up the leak by the skylight. As the van rocked in the wind, we battened down the hatches and turned in for a rocking, windy night.