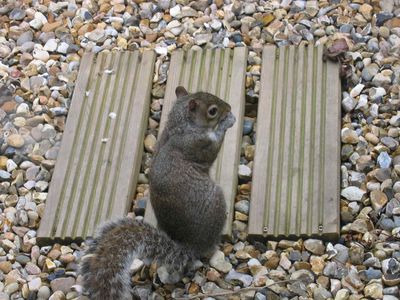 We've had a squirrel visiting us, coming to our back door, to rummage through a bag of veg. We put the bag there in readiness for putting it into our Worm Farm .
Our cat remained firmly asleep on the bed, and Binky-Bonky, our neighbour's cat, sat passively gazing at the squirrel a couple of yards away.
I managed to take a few photos without moving too much. I was only about 3 feet away from him so didn't want to alarm him. Only two pictures came out in focus and in one of those he had his back to me.
Earlier Vic had seen a blue tit outside our kitchen window, and there have been swifts whizzing about in the sky. Summer must be here.