During less busy moments, I've been trying out a few game demos. The new Unreal Tournament 2004 demo is very similar to the previous UT 2003 and plays well. I've been a big fan of UT2003 for a while, and this inspired me to get my home networks UT2003 server running agin on my Linux server. Vic and I can now play UT2003 against each other again (and she's quite good for a girl ;) ).
I've also played the two demos of Call of Duty a WW2 first person game. Previously I've completed Medal of Honour and MOH:Spearhead, and Call of Duty is similar in style (probably because it was written by some of the original MoH developers). There are two demos around, and both are interesting, and, for me at least, challenging to play.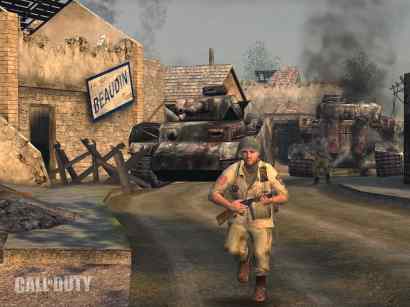 There seem to be a lot of WW2 computer games around at the moment, which seems at odds with the general trend in toys and games, which is away from realistic war simulations or models. When I was younger, most of the Action Man outfits were military uniforms of one sort of another, but now they seem to be more science-fiction/adventure sport oriented. Maybe that's why the computer games (which are generally aimed at an older age group) are covering WW2, to feed the interest of people of my age who were into war games and stories in the 70's. Maybe it's a good thing that children aren't encouraged to be interested in WW2 any more; some might say it glorifies war.
Having said that, I'm not exactly a violent person and don't believe that the recent war in Iraq was legitimately justified, so it hasn't made me into some war-crazed jingoistic violence-monger. There were some important lessons learned in WW2, and my generation only learned them second-hand. In 20 years time, there won't be many people left who lived through WW2, and no one will remember a time when the UK was at risk of invasion and war on its own territory. Again, this could be a good thing in that those who have not been threatened by our European neighbours will probably be better European citizens, not resenting past conflicts, but it does make me wonder whether it will lead to the UK population becoming complacent, and possibly making some of the same mistakes of the past.