Since I finished work, and more so since we put the flat on the market, I've not been going out very much. As a result, I've not had much to write about here really.
Trying to keep busy I've set up a site dedicated to the old Telecom Gold Noticebd with some pictures and a message board. I'm sure anyone who wants to would be welcome to join in. I intend putting up more pictures and maybe a history of the Noticebd.
Popped into town and met up with my brother, Nick, last week. It made a change to go out, and try out my pre-pay Oyster Card which seems to work well. I still need to find out when the new rules kick in about it only charging you the price of a Travelcard, if you could have made all the journeys using one, and when the buses take pre-pay.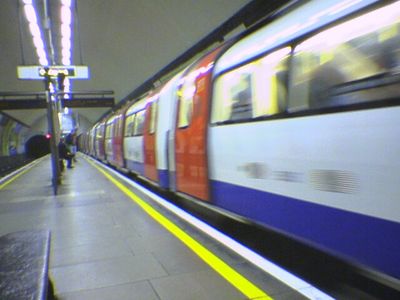 Clapham North Tube Station
We've had 7 viewings of the flat so far, with another 2 due in the next hour. We've accepted an offer, but you never know what's going to happen with the other viewings.
Better make myself scarce, so I'm going for a wander around Brixton.
Updated 12:40 – The estate agents have cancelled the extra viewings as they want to give the buyers 5 days to arrange a survey