The TG Noticebd reunion went off fantastically well, though Vic and I arrived a little later than originally planned. Lots of old faces, and a few people who were from before my Noticebd era.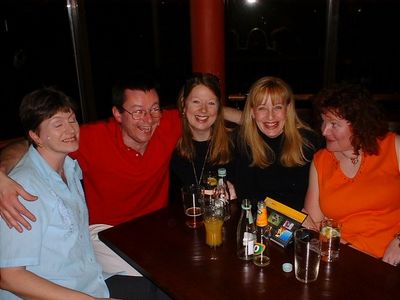 Drunken TG Noticebd Reunion
So many folk armed with cameras naturally resulted in lots of digital pictures and a few folks have donated retro pictures from the heyday of the Noticebd It was great to see so many of the crew, and to see how little most had changed. Chesh even turned up later than everyone else, just like he used to 15 years ago.
I'm hoping that there'll be another Eyeball rather sooner than the last 10 year interval.
I've also created a new message board for the old TGers; if anyone wants access to it, drop me an email as I don't want it to be publically visible just yet.
Vic and I worked off our hangovers by tidying the flat up ready for putting it on the market. So we're now officially "For Sale", in case anyone out there wants to buy a 2 bedroom garden flat in Brixton.