No blog post in ages, sorry about that. We've been away for a few days.
On Friday, we went to the Business Design Centre in Islington to attend the Independent Travel World show. The show was okay, not terribly exciting but we picked up some brochures for ideas etc. After lunch there, we caught the train from King's Cross to Cleethorpes to visit my parents. We've not been up to Cleethorpes since the wedding, as we had only just returned from Australia at Christmas when we'd usually make a visit.
Saturday was spent looking round the shops in Grimsby, including our traditional visit to TK Maxx . I didn't spent much there this time, just bought a pair of zip-off Crag Hopper travel trousers. They're mosquito repellant (like most of the Crag Hopper stuff) so should be useful on the travels.
After lunch on Sunday we headed off to Cleethorpes beach for a walk. It was pretty cold out there and as we walked it started to snow and hail, with the wind whipping the hail horizontally into your face as you walk along. Refreshing, is the word, I believe. The pictures I took on Cleethorpes beach don't really convey quite how bleak it was.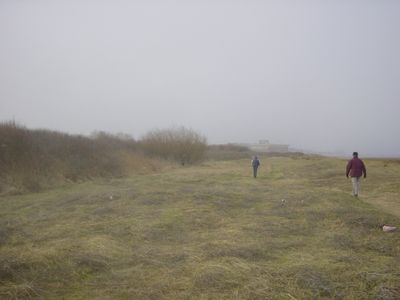 On returning home to Brixton (the trains gave us very few problems for a change), we found that the wedding photos I'd sent off last week had arrived back. They're taken from the disposable cameras we had on the table at the wedding reception. I've filtered through and put the best of these additional wedding photos online.