I've not had time to write up the rest of our adventures in Scotland, and we leave for India on Monday so I'm going to do a quick summary.
After a couple of days at Fort Augustus waiting for the van to have its brake vacuum pump replaced, we headed over to Skye, visiting Eilean Donan on the way.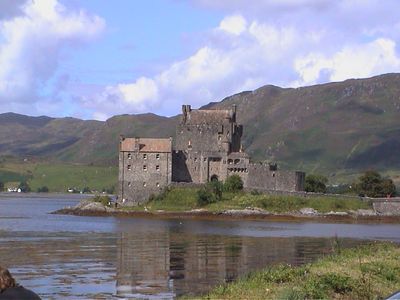 We stayed on Skye for four nights, at a very nice campsite just outside Portree. We spent a day driving round the north of the island, with great weather making the experience much more enjoyable. We both really liked Skye and hope to go back there when we return to the UK.
After Skye, it was time to head home. We did this in 3 days, stopping at Fort Augustus and Berwick-on-Tweed before reaching my parent's house in Cleethorpes.
We stayed in Cleethorpes for a week, managing to fit in a trip to Blundell Park to see "The Mariners while we were there. We also did some work tidying up the bodywork of the van.
Next up was Bury St Edmunds, where Vic's parents live. We spent a couple of weeks there, getting some more repairs done to the van (leaking oil seals) and reducing the amount of stuff we were taking to London.
For the last leg of the trip we drove down to London, to stay in the YHA at Hampstead Heath / Golders Green. We've been there for about 3 weeks now, sorting out passports, jabs, tickets, stuff to take and lots more. The van has had even more work done on it, this time more oil seals were replaced, the gearbox was changed and a new clutch was fitted (the other one had been contaminated with oil from the leaking seals).
Sadly we've not been able to sell the van yet, so I'm hoping to either store it or get someone to sell it for me.
That brings us up to date, pretty much. Not sure when I'll be updating next as it depends on Internet access in India.